As we handed over the keys to REA Group's latest workspace in Melbourne, Buildcorp were thrilled to learn that the leading media business and operators of realestate.com.au, realcommercial.com.au and flatmates.com.au rated their likeliness to refer Buildcorp to a friend or colleague a 10/10. Here, we share our insights on the reasons behind the success of this unique fit-out project.
1. The project team shared a common goal
REA's mission to 'change the way the world experiences property' drove the design of their latest workplace showroom in Melbourne's inner suburb Richmond. To deliver on this, REA engaged a consultant and delivery team with the right experience, skills and mindset early on, and clearly communicated their vision and goals. The core consultant team included: Futurespace (Architect), Montlaur (Project Manager) and Philip Chun (Quantity Surveyor).  
2. Design features that support the future of work
As an extension of REA's existing headquarters, the new showroom provides agile spaces for experimenting, planning and connecting. These include: a new library, research room for testing, onsite café and multipurpose breakout areas (all branded with the REA values). In addition, a vertical plant wall and green spaces add a natural energy throughout.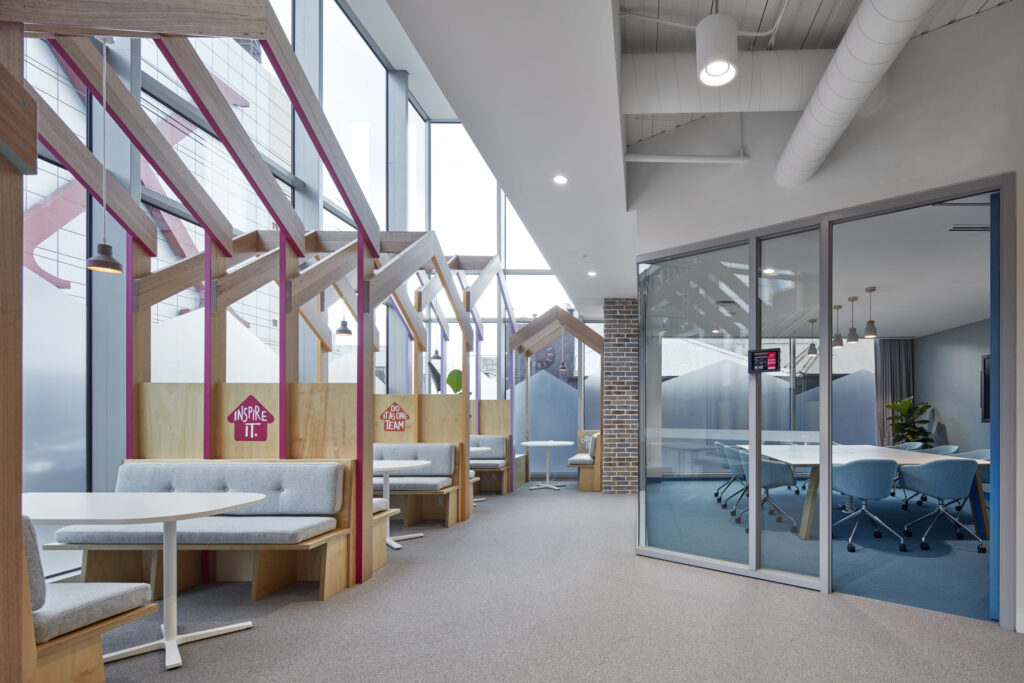 3. The consultant and project team were collaborative
A great project starts and ends with a collaborative team of client, builder, consultants and suppliers. Through these partnerships (many longstanding) Buildcorp approached the project as 'one team' which achieved the best outcomes for time management, quality and buildability, risk, safety, and workforce continuity.
4. REA maintained their 'Business as usual'
To ensure REA's daily operations continued, our team minimised the disruption of high impact works such as the demolition of the existing retail tenancy and block wall, and the construction of the showroom. Buildcorp managed this 'live environment' challenge with effective stakeholder communications and a considered program that conducted impactful, noisy works outside of business hours.  
5. Construction methodology fast tracked the project
With just seven weeks to deliver the schedule, Buildcorp fast tracked the program by:  
Using site visits to identify the best solution for staging demolition works and coordinating trades
Prioritising the procurement of long lead items such as furniture and specialised joinery
Remaining responsive throughout the build to accommodate evolving design drawings for the library's intricate detailing and double glazing features.
6. Safety was front of mind, every day
Stakeholder communication played a big role to mitigate and manage safety risks around the tight construction site. We used our online safety dashboard to share and analyse real time project safety data and highlight where support was needed.  On site: temporary hoardings with secure access was installed to enclose sections of works, 'level floor' product was used to manage load concerns and the services contractors isolated existing services before removing them.  
7. Delivery logistics were one step ahead
The main access point on Church Street had the potential to impede pedestrians, REA's visitors and staff. To keep this clear, all deliveries and waste removal were conducted via the safest route in the nearby laneway. Trade deliveries were also coordinated to occur outside of business hours.  
8. Practical site set-up
Buildcorp's site operations aimed to be 'out of sight and out of mind' of REA's workforce. To achieve this, we located the site office discreetly in the showroom space (not visible from REA's reception) and maintained access to the main kitchen for REA's staff. Each day, office areas near the works were cleaned and cleared of debris to maintain a dust free office.  
9. Attention to detail 
Buildcorp's commitment to quality and continual learning has helped us to develop our very own quality management app, Onsite. Our team utilised the Onsite app as a 360 degree quality capturing tool to communicate with consultants, subcontractors and REA's project team. The immediate access to project plans, works and data enabled the quick identification and rectification of any defects.  
10. A happy Client 
REA's National Facilities Manager, Lauren Dowling, valued her experience working on the showroom as one of her favourite projects:
"REA's vision for the space and the delivery of the project matched up seamlessly. Buildcorp's professionalism and personable approach ensured the safety of all our staff and meant visitors to the building weren't disrupted by works. The result is a quality workspace where staff can meet in a co-working space to collaborate and transform the way consumers experience property."

Lauren Dowling, National Facilities Manager